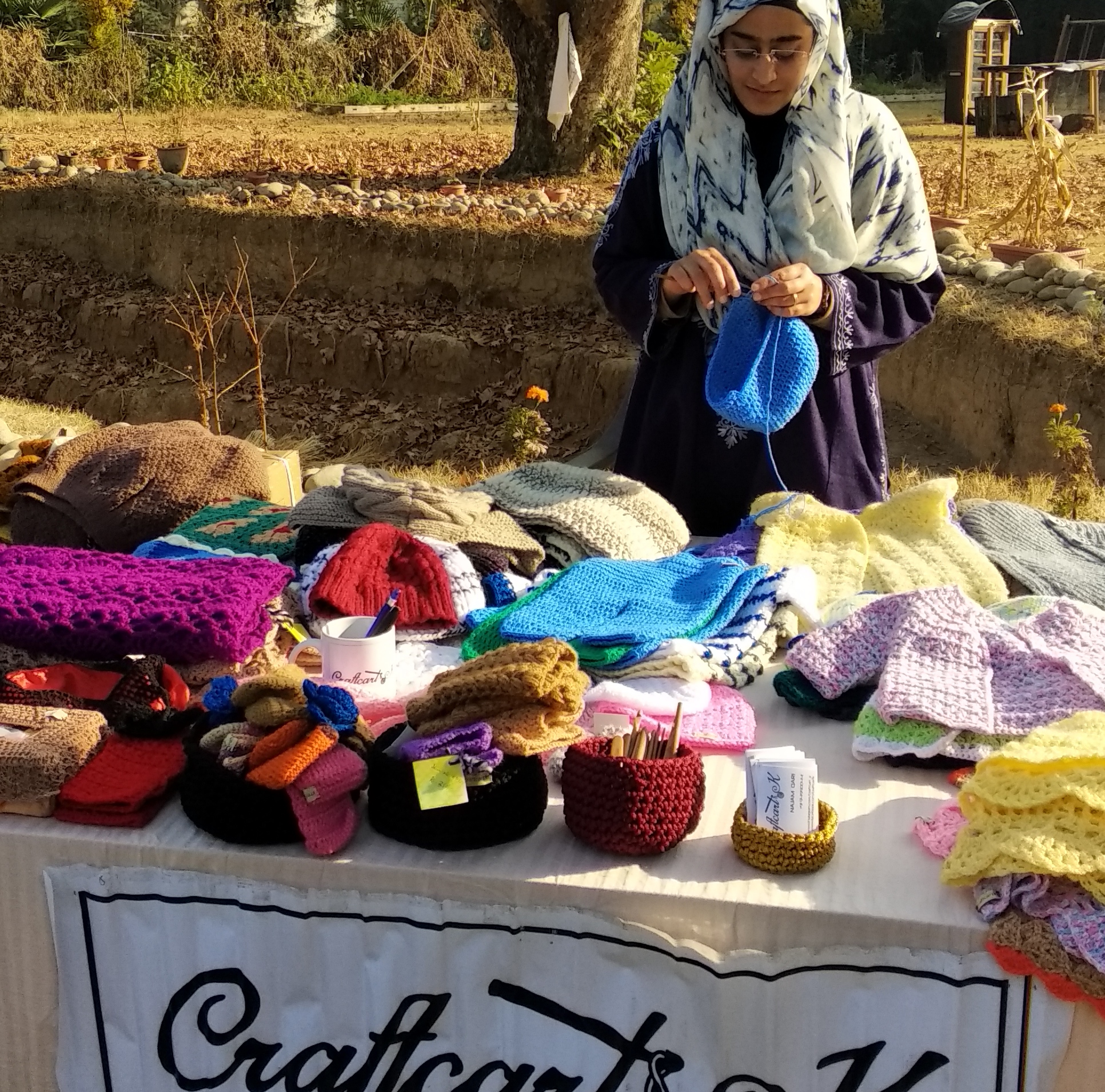 From hobby to a business, Najam Qari, a 28-year-old businesswoman has turned crocheting into successful entrepreneurship, building up a team of nine women and selling her products online as well as offline.
Born in a joint family, Najam learned the art of crocheting, which has nowadays become a rare art in Kashmir, from her grandmother Shams-Un-Nisa when she was in the fifth standard.
The colorful threads of crochet caught Najam's interest and she used to spend hours with Nisa, learning the art. A quick learner, she mastered many patterns and designs. "Dadi would teach me different patterns. I like the art and eventually, it became my hobby," she said.
Her interest in the art meant that she continued practicing to improve her skills all through her schooling years. In 2007, after her 10th standard, she joined a three-year diploma course in computer science at SSM College of Science and Technology almost 33 kilometers from her house in Zakoora located on the outskirts of Srinagar.
She would keep an extra pair of needles and threads in her bag and while travelling to college she would keep weaving different types of baby dresses, hoods, cowls, and gloves. Even though Najam's mentor and master Nisa passed away in 2009, she kept the art alive.
She would wake up early morning to make a proper timetable of her day, from helping her mother in kitchen to attending college, while sparing time for crocheting as well.
After Nisa, Najam's aunt became her teacher and taught her tougher designs. "There were many forms of designs which took me time to learn but I didn't give up, I kept trying and ultimately I mastered them," she said.
While in college Najam would play with colours designing websites, at home, she would play with the colourful threads and needles, the only difference was that one was virtual and the other, practical.
In 2012, she finished her diploma and started freelancing for many organisations providing web-designing services. She continued freelancing for three years. In January 2015, she joined an organisation for a salary of nine thousand per month.
Her office was located in Gogi Bagh in Srinagar, at a distance of 19 kilometres from her home. Local transport was available only to the center of city, from where she had to walk five kilometres everyday to reach her office. "Due to walking 10 kilometres a day, I grew physically weak and I was not able to focus on any other work. I had to work from home even on Sundays," said Najam.
Even within this hectic and tight schedule, she would spare time for her passion "crocheting". Continuing her job for a year, in December, she decided to quit her job and start her own business. "I had woven a hood for my elder brother, his friends liked it and placed orders. So, I finally decided to start my business of crochet," she said with a smile on her face.
In the beginning, she made mufflers, gloves, cushion covers, TV covers, socks and tried to make her designs better and make them more attractive. Her patrons were her relatives, friends and neighbours who made her business known in her locality.
Internet to the Rescue
With the help of internet, she learnt several new designs talking to a number of designers on social media. She learnt multiple Turkish designs and kept translating every step to English and kept those translations properly organise. She didn't stop there, she even learnt Spanish and many other European styles and patterns in crochet.
Initially, her family used to ask her to apply for jobs as the income from crocheting wasn't enough. But with her hard work and passion, Najam made her products different and attractive, which impressed people and she started receiving orders from faraway places.
Najam created an Instagram page under the name of Craft Cart in 2016 and posted her work there. People would appreciate her work and she stared receiving orders from different parts of Kashmir.
But during the longest internet ban in Kashmir history which was imposed by the government soon after the killing of Hizbul Mujahideen commander Burhan Wani, Najam underwent a lot of problem in managing her business. Her internet-based work was highly affected as there were massive reductions in orders. Even now, internet bans- which have become a routine affair in Kashmir- have a bad impact on her business.
Introducing new designs of other cultures and countries was tough for Najam, as she required different types of needles which were not available in the Indian markets. Eventually, she was able to order these online from various international sites. "I would contact designers on Instagram and ask them to teach me the use of these implements," she recalled.
She came up with new experiments and created shrugs, sweaters, coats, bags to carry babies, jewellery and much more.
Starting the Business
Najam received many more orders than she expected. People also approached her and asked to teach them this art. "Other girls showed interest in this art, I warmly welcomed them. Not only girls, I trained a few of housewives as well," she said. After finishing their training, she offered them a chance to work with her to which they happily agreed.
Najam decided to pay them per product and they chained together for major projects. Her mother Tanseem Kounsar has supported her entrepreneurial efforts all along.
Najam and her team, through their efforts are now earning enough to manage their personal and family expenses. She is the first entrepreneur in her family and she is not only working to earn but has made equal efforts to teach crochet to others. She has managed to revive and sustain this once famous Kashmiri traditional craft, even in the age of machine-made modern apparel.
Her room is an institution, showroom, office and a workshop, where shelves are occupied with different crochet items, note books with design translations from different countries and records of orders.
With the growing issue of unemployment, Najam believes that not just the art of crochet but different arts which make Kashmir culturally rich can help people to earn handsome amounts.
Nighat Shafi Pandit, who since 1997 through her organisation, Help Foundation, has been addressing the pain and trauma of women in Kashmir caught up in conflict and family problems, feels that even though there has been an increase from 30 to 70 per cent in working women over the last 20-30 years, they still face harassment both at work and at home. She said, "Working women, especially those who want to start a business, face hurdles not only at home but also in banks specially while securing loans. Then there is corruption and nepotism which makes it difficult. In spite of more women getting educated and working they still have to face the 'man's world' which essentially stems from insecurities men have with the idea of women working. Not just in offices, women are working very hard in the villages, in the fields but their work goes unappreciated."
Source: NewsClick